Call Center Dialer
Automate Outbound Dialing to Increase Call Connects , have more Calls per Agent and witness High Customer Conversions with dialer software
What Are Call Center Dialers
What is a Call Center Dialer?
When it's time to step up into the world of automated dialing or predictive dialer, pause a bit and step back. What works best for one business may not be the right fit for yours. Take a look at your operations and assess the best-fit call center dialer for your needs.
A call center dialer or a predictive dialer is an application that automates the process of dialing numbers in a call center. Unlike manual dialing, it automatically dials the phone numbers with auto dialing software pertaining to a selected list of contacts on behalf of the agents. Once a call is answered, the call center dialer also known as an outbound dialer connects the customer to either an IVR or to a live call center representative, thereby increasing the call connect ratio and agent talk time.
Why does a Business need Call Center Dialers?
A call center dialer is one of the best dialer software for call center to have when you make a lot of outbound calls. It is not just a dialer for call centers. It can potentially improve the productivity of your agent or salesperson. Solidale Infotech is providing dialer software for call center with a very less call center dialer price in India for call center dialer software, you can get all call center dialer features.
Types of Call Center Dialers
What is a Predictive Dialer?
A predictive dialer dials a list of telephone numbers and connects answered dials to people making calls, often referred to as agents. Predictive dialers may be standalone hardware devices, automated call center dialer, cloud-based, or they may be integrated into the software with call center or contact center platforms. A predictive dialer is an outbound dialer system that automatically dials numbers from a contact list and as soon as the call connects, the call dialer routes them to an available agent to take the interaction forward. Predictive dialer saves agents time by screening busy signals, voicemails, unanswered calls, and disconnected numbers. As the name suggests, predictive dialer has an inbuilt algorithm to predict when the next call should be placed, as it analyzes when agents will be free to take the next call based on historical call pattern and then dial numbers on the agent's behalf.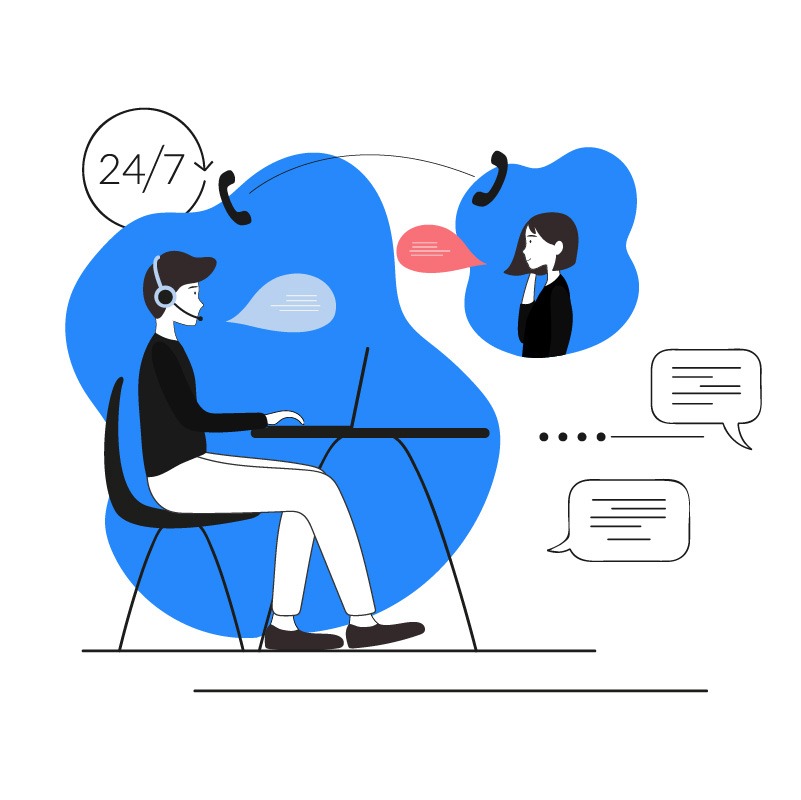 How Predictive Dialing Works?
As the name implies, predictive dialers predict when agents will be free to take the next call and then dial numbers on the agent's behalf. The dialer uses algorithms to surmise the exact time that an agent should be finishing up with a call and then dials another number. When working properly, predictive dialers supply agents with a steady stream of calls with little-to-no downtime.
Predictive dialing employs a dialing engine based on an algorithm that kicks off automatic outbound calls for a specific campaign in the background for call center agents before connecting the live calls to the agents.
Predictive dialing engine starts dialing numbers for a list of contacts in specific campaigns.

Dialing algorithm based on various factors like average call length, nature of calls, time of day and agent availability adjusts outbound dialing rate in real-time.

The call center manager can also tune the various dialing algorithm parameters for a customized call pacing rate depending upon the requirement.

All the answered calls are routed to agents and the remaining are again automatically scheduled for retry at a later interval.
Why Call Centers Need a Predictive Dialer?
Predictive dialers are routinely used in call center processes like telemarketing, market research, debt collection, and customer service follow-ups. In addition, some outbound call centers also use predictive dialers for lead qualification to maximize the amount of time they can spend on the phone with prospects during outbound sales prospecting.
What is a Progressive Dialer?
Balances agent productivity with conversation quality. In this mode, dialer calls one phone number after another sequentially, ensuring agents' availability before the call is answered. Use it for medium to large databases when data quality and conversion value is high.
The progressive dialer also known as power dialer is a type of call center dialer where the agent is already active on the line before a call is dialed. The agent initiates the calling session and when a call is connected, he answers the call. Since the agent is already live in this dialing scenario, there is no need for routing the calls. In case of progressive dialing, there is hardly any possibility of call abandonment unlike predictive dialer as the call dialer dials one number at a time and agent is always available on the line to answer the connected calls.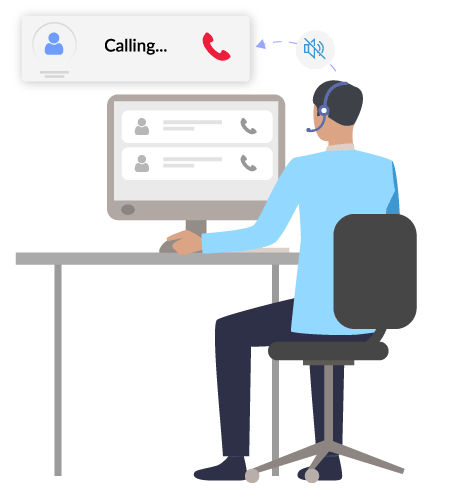 How Progressive Dialing Works?
In progressive mode, the dialer runs through your calling lists across multiple campaigns at the velocity of your operations. The system automatically paces dialing based on recent connection and abandonment rates and only dials when an agent becomes available.
In the progressive dialing mode, the dialer dials a pre-selected list of numbers in sequential order, one after the other with a live agent already available on the line.
In progressive dialing scenario, call center agents have complete control over the dialing process and activate the dialing session as per the requirement for the selected list.

The progressive dialer, dials the numbers one at a time and in case a number is busy or gets disconnected, it immediately dials the next contact number on the list.

Sequential dialing and active agent availability lead to rule out call abandonment possibilities.

Connected calls are answered by the agents without any pauses or delays and the call dialer stops dialing the next number from the list until the agent wraps up the call.
Why Call Centers Need a Progressive Dialer?
A Progressive Dialer, just like a Predictive Dialer, is implemented to avoid agents having to manually dial customer phone numbers to make outbound calls. This mode is typically used for Business to Business calling.
Progressive dialers work better for call centers with less number of agents working on a high-quality leads. It is highly productive for B2B organizations working on higher value leads that require outbound agents to apply their sales outreach skills to navigate through gatekeepers to talk to the right party contact.
What is a Preview Dialer?
Preview dialing is the simplest outbound dialing mechanism. The preview dialer selects a customer record from a call list and proposes this call record to an agent. The agent can then look at the customer record (the "preview" phase) and decide to call this customer.
With a preview dialer at the end of a call your advisors are able to see the next call on the list. It is up to them when to make the call and they may also be able to skip to the next name on the list. The can be ideal for more complex sales where a bit of research is required between calls to increase the chances of success.
Preview dialer is the type of an outbound dialer that empowers the agents by giving them a quick information update about the next contact which allows them to prepare before placing the call. As a result, this call center dialer connects the agent first before connecting the call to the customer.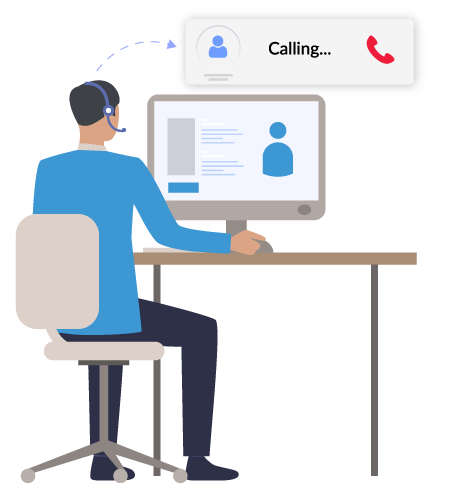 How does Preview Dialing Work?
Gives agents time to carefully review customer information and requirements. Use it when the revenue generated per call is very high, or when customer requirements vary from case to case.
Preview dialing is the most convenient and easy to use outbound dialing mode. This contact center dialer automatically proposes the next call to be dialed based on campaign settings and provides the agent an opportunity to prepare before placing the call along with the option to skip and go to the next contact.
An outbound campaign is initiated and the screen popup showing contact information is displayed on the agent screen.

The agent can preview and decide to accept or reject the call. Either the agent clicks the call button to call the customer, or the number auto dials after the pre-defined the 'auto-dial time-out'.

Once an agent wraps up the current call, the next call request is routed to the agent screen.
Why Call Centers Need a Preview Dialer?
Preview dialer is the best fit for call centers with complex sales process which require pre-research for calls to increase the conversion ratio. Mostly complex B2B inside sales processes with high value prefer preview dialing mode.
Benefits of Implementing a Dialer Software
Frequently Asked Questions
Call center dialer help in making outbound calling efficient by automatically dialing the numbers from a lead list and improving call connect rate using features like bulk dial, answering machine detection (AMD). This enables agent to directly connect to an end user and not waste time on answering machines.
Filter-Based Calling: Set specific rules such as geography, target group etc. before initiating calling to achieve targeted goals and results.
Dial Time Restriction: With this feature, user can put a restriction on auto dialing for a specific time zone.
Retry Time Setting: Set retry time for calls that were met with a busy tone, disconnection, failure, and network error.
Answering Machine Detection: Let the Call centre dialer transfer only those calls to the agent that are answered by a human.
DNC Management: Add unwanted contacts to do not call lists to avoid irate customers.
Solidale Infotech outbound Call Center Solution comes with inbuilt dialer features. To setup a dialer you will need a lead list to fetch leads to a dialer. This can be done manually or via an API. Now you can choose from different dial algorithms and dial the lead list as per ascending/descending order, based on priority /weight-age and even based on Agent assignment.
1. Predictive Dialer – Flexible bulk dialing.
2. Progressive Dialer – Sequential dialing.
3. Preview Dialer – Dial important prospects with prior user information available before a call is connected.