Application Testing
Get full range of Software quality testing and QA services.
Software QA Testing Services
A massive paradigm shift in software development, automation, and compliance has escalated the growing needs of software testing or software tester for businesses with software quality testing. This new scenario has pushed companies to focus on adapting onshore, offshore and hybrid Software QA Testing Services. They are noway able to cope with an accumulated expenditure of not less than 10 to 12 percent of their annual IT budget on fixing the core application issues. To cut their cost overheads, businesses are now accommodating them holistically in their process.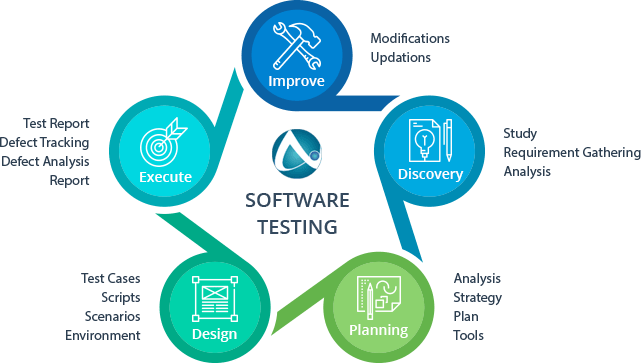 Software QA Testing We Perform
Most of the software fails during the deployment stage due to a lack of investment in managing critical processes and maintaining software quality. If this is the case with you, Solidale Infotech is a software testing company that is at your rescue. We are the undisputed leaders in software testing and quality assurance with considerable experience of no less than 10 years. Our QA services are backed with dedicated test centers, accurate test scripts, test data, and test runs to give you quality assurance in software testing.
Our enterprise-level Software QA Testing Services or software tester India is designed to reduce QA bottlenecks to enable you to focus on core areas of application enhancements and provide you software quality assurance. Following are the key takeaways we offer.
Functional Testing
The process is handy for all kinds of software projects and proposed for long-term engagements. Our functional software test process by our qualified software tester is fully flexible and easily adaptable. We have a full-fledged team that is well versed with associated automation procedures. Our quality assurance in software testing team takes advantage of the best available techniques to complete the process. The techniques include requirements profiling and validation, risk-based, model-based, and automated test designs, system integration, software quality assurance services, software quality and testing, software quality in software testing, and regression testing. They take care of a range of activities during the phase.
Error-free integration

Effective compatibility testing

Enhanced reliability of applications
Performance Testing
A team of performance testing experts works consistently to give clients a tested software product that meets all key performance requirements of software quality testing. Our software testing services company QA team carries out stress testing, volume testing, qa testing, and SOAK testing to establish and improve the capabilities of the applications. We have huge experience in Software testing and performance optimization of products. Our testers work with a well-defined strategy to identify bugs and bottlenecks. We use a range of advanced and automated tools and execute our methodology as per the industry standards. They test products through cost, time, and technology in order to give them better marketability. Following are the major components that we take into account during this phase.
Load testing

Stress testing

Scalability and volume testing

Soak testing
Security Testing
Our Software QA Testing Services address all the issues and bugs that hamper the smooth functioning of an application. Our QA experts at Solidale Infotech settle out various kinds of threat perceptions, explore the ways to prevent new vulnerabilities if it happens. We have expertise in a wide range of cross-site scripting methods, website testing, software quality assurance companies, and SQL injection techniques. Using robust open-source tools, we ensure affordable security testing to curb security failures of any kind. The activities we cover in qa testing are:
Product security testing

Website testing

Penetration Testing

Vulnerability Scanning

Cross site scripting

Static vulnerability scanning

In-depth test analysis

Flaw testing using SQL injection

Exhaustive analysis of risks
Automation Testing
Our QA automated test is meant to deliver specialized automation services using high-end software quality software testing tools. We follow structured automation approach to ensure maximum test coverage & minimum maintenance efforts. This helps organizations to save significantly from the allocated budget. Following are the services that we offer during the phase.
Automation Assessment

Proof of Concept

Framework implementation

End to End Automation development

Tool implementation

Dashboard/Report customization

Training

Integrate with automation tools