Web Usability
Having insightful knowledge of what visitors want from a website, we offer expert web usability services to deliver websites that meet visitors' expectations.
Web Usability Analysis
The term web usability denotes the process of evaluating the user's need and then improving the design of the website to match them. Elegant and aesthetic, quick and user-friendly website enables you to transform the way your customers perceive and relate with you in the online environment. An usable website can harvest huge revenues from your business and engage more customers on your website.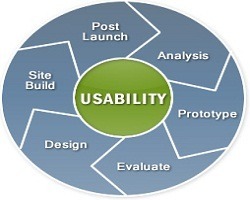 Why Web Usability Is Important ?
Usability of a website is not an afterthought process. Determining, evaluating and analyzing a website after its creation is futile and incapable of generating good results. To understand the requirements of your targeted customers, it is best to monitor the pages they visit and information they access while a session on your web site. They may have found your site looking for one product but may go for other products as well if your web site offers them better usability. Below is the way we do it:
Verify the goals for the web site from the standpoint of the customer and the business

Clarifying user demands and target usability necessities

Assessing presented versions of the site
Web Usability Areas We Cover
The major steps we take to improve usability are to employ iterative designs that gradually refine the early stages of web design process and then evaluate the user and client feedback until the system attains the desired level of usability. We follow a structured approach to complete website usability projects.
Traffic analysis

Usability analysis through focus groups, user tests, and walk through

Technically advanced efforts

Interactive survey

Collecting sales and lead information

Click heat mapping

Customer metrics

Task analysis to configure critical features.
Our Website Usability Analysis Methodology
At Solidale Infotech, our web designers have the proficiency to understand what the user wants to see and do while looking for a service or a product on a website. Our web lab has the ability to get into the skin of your online business model and recognizes its basic business requirement.
Benchmarking your site considering your competitors

Identifying your potential customer group

Recommending site architecture based on the information gained

Suggesting new and improved technologies

Considering your SEO strategies for an effective site architecture