PPC Management Services over India's most popular publishers network
Google AdwordsYahoo Search MarketingMSN AdCenter
PPC Management Services
At Solidale Infotech India, we follow a PPC Management (Pay per Click Advertising) methodology specially planned to help clients achieve their Search Engine Marketing goals. clients will get us by searching for digital marketing agency near me on google easily. Our Pay Per Click Management Services are customized for major AD publishers: Google Adwords / Yahoo Search / and MSN Adcenter. Being a noted PPC Company India, we understand the functioning of various PPC platforms and their impact on campaigns. Our PPC Experts ensure that you get the best returns on your PPC investment.
Solidale Infotech is the best digital marketing company offering a spectrum of Web Solutions to all those who desire online success. We are well-aware of the nuances that can take your business to the zenith. Google Adwords is a marketing campaign started by Google. It provides instantaneous solutions to the problems that arise out of poor visibility in search results. SEO Professionals at Static India are proficient and efficient when it comes to Google Adwords campaigns. We are very well aware of the nuances that can get you maximum exposure to the virtual world of the internet. The traffic of your site depends on the increased visibility on search engines. The more traffic you will have, the higher the conversion rate you will get from potential customers.
At Solidale Infotech, we are assured that we are the best digital marketing agency or best digital marketing company which provides pay per click advertising, ppc in digital marketing, search engine marketing in digital marketing, ppc advertising.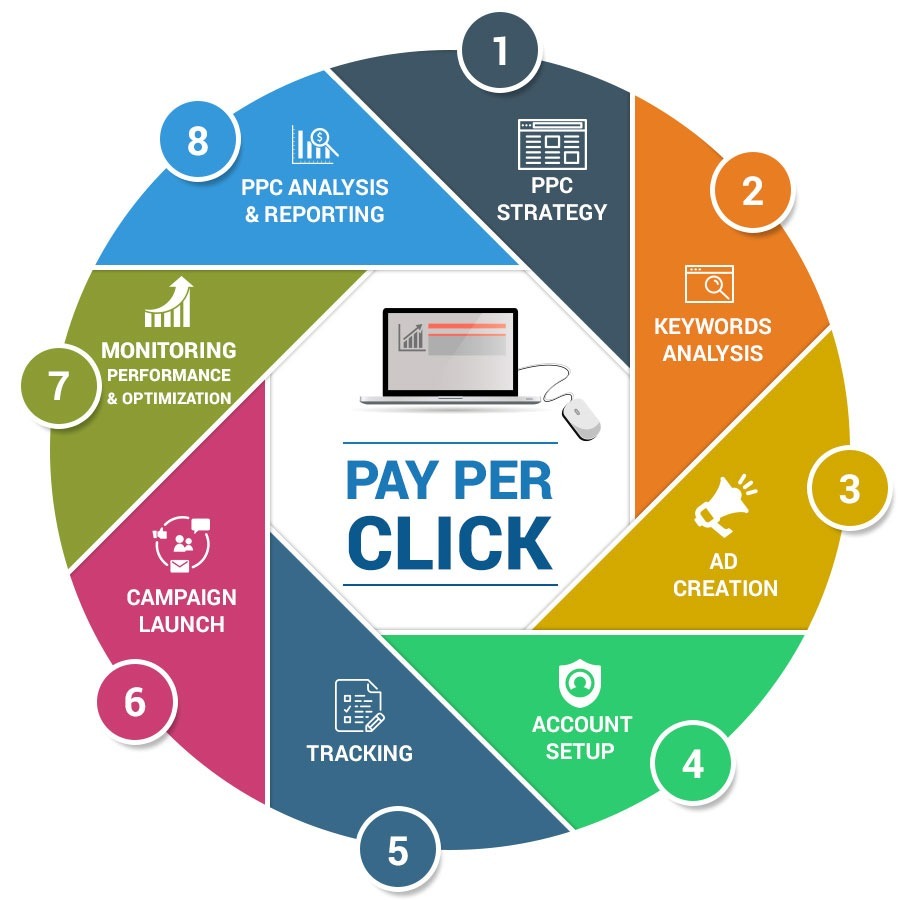 PPC ADVERTISING
We are just not the best with Google Adwords we have the expertise to Manage Yahoo, Bing, Facebook, PPC Campaigns and LinkedIn accounts. Average CPC, impression reports, CTR Report, clicks and Google Adwords analytics are some of the features that we offer to all our esteemed clients' from different industry verticals. We are here to offer our client's the best services at affordable rates.
For a successful digital marketing campaign, Pay per click services plays an important role that takes your business to the target audience in controlled and profitable manner.
FEATURES & ADVANTAGE
Ads Live within 24 Working Hrs

Free Account Management

Unlimited Keyword

For Business Promotion

Your Website Google 1st page

Ads Scheduling
Siterlinks Extension

Video/Display/Text Ads

Account Access

Keyword Research

Ads Optimisation

Unlimited Validity as per Plan
Highly analytical and result-focused, our PPC management India helps our professionals to design, implement, run and evaluate exclusive Pay per click management campaigns. While the process remains the same with set guidelines, the campaigns are customized accordingly to address the unique requirements of the projects' varying objectives. The methodology saves us from getting involved in anything less important and keep us on track all the time.
Our publisher's network comprises some of the biggest names of the industry, primarily, Yahoo Search Marketing, MSN AdCenter, Google AdWords and more. We welcome startups and budding entrepreneurs to sign up for a free account and have their ads designed and placed on any of our advertising tools to promote their business online. Having their own set of qualities, these PPC campaign Management tools are best in delivering quality traffic to the websites.
Proper campaign building and implementation by certified account managers.
Regular optimization and required campaign expansion for thorough growth
Highly sophisticated bidding strategies customized by search engine
Proper testing and optimization of Ad Copy
Flawless landing page testing and implementation for greater conversions